Basement Remodeling
Home Improvement Contractors Serving the Greater Seattle Area
Create a Luxury Basement in Your Home
Basements can be incredibly versatile spaces, but having a basement remodeled often requires a lot of work and design expertise to actually maximize the use of the space. The square footage that a remodeled basement can add to a home can be significant, but it needs to be done correctly. That's where Emerald City Construction can help. Our design team has years of experience creating efficient basement layouts, and our remodeling contractors have the skill it takes to complete the job flawlessly. If you're looking to turn your unfished basement into an additional bedroom, a playroom, an entertainment space, or even a second kitchen, we're the team to trust. Contact us today for a consultation.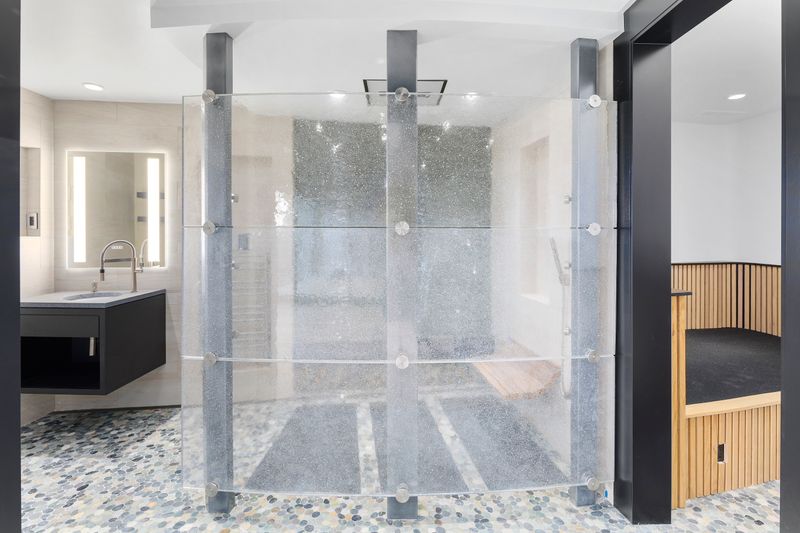 Top Things to Consider When Completing a Basement Remodel
The Layout

Building and Electrical Permits

Plumbing and Drainage

Lighting: How Much and What Kind

Moisture Problems Should be Fixed First

Soundproofing the Ceiling

Storage

Is There Direct Access to the Outside?
Skilled Basement Remodeling Contractors in Seattle
Emerald City Construction has been serving the greater Seattle area with basement remodeling and construction services for years. From the initial design and layout to a flawless construction, you can trust our team to provide you with a home or remodeled space that you genuinely love. Remodeling a basement can be quite an endeavor, but we're here to ensure that everything goes smoothly so that you can enjoy the new space in any way that you wish.
Entertainment Space - Playroom - Bedrooms - Kitchen
Renovate Your Basement With Everything You Need
What to Know About Your Basement Remodel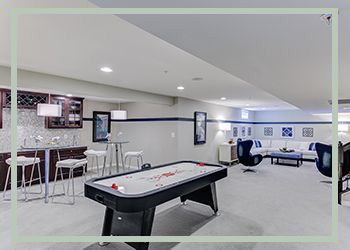 The Layout
Our design team will help you create a layout that works for your needs as well as the existing space. Unfinished basements are often very open, blank slates that we can shape into a variety of uses. If you want an additional bedroom, an open living room, a game or playroom, or an entertainment space with a wet bar, we can plan for the best place to install walls and to place doors and hallways in a way that will maximize the space. If you want a bedroom in the basement, it will need a window with egress and will most likely need a bathroom as well. If you're wanting a kitchen or entertainment space, plumbing and electrical systems may need to be added as well.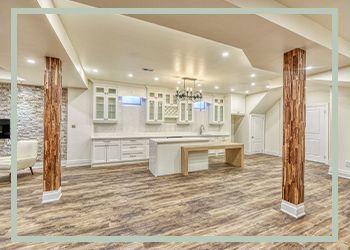 Materials
As a part of the design process, we'll also discuss the types of materials that you want in the basement. The flooring material is one of the biggest decisions. Whether you choose carpet, tile, or hardwood, it needs to have the proper protective layers between the foundation to keep the floor dry. We'll also go over the cabinet and storage materials, window styles, countertops, paint, and more.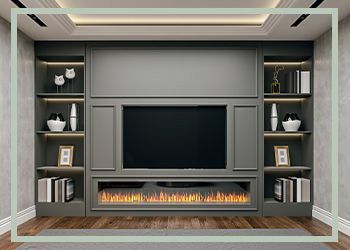 Permits and Construction
Once the initial layout has been planned and approved by you, we will apply for all the necessary permits and get to work. From start to finish, our contractors are committed to providing service with the highest level of quality and workmanship. We take pride in our work and strive to exceed your expectations, whether we're simply putting up drywall or completing an entire basement apartment.
Whatever your vision is, it all starts with a team of experienced and professional designers and remodeling contractors. Our team has the knowledge and experience to create a basement that is functional and beautiful.
Seattle's EXCLUSIVE Remodeling team
Emerald City Construction is a family-run business with a passion for quality construction and the highest level of customer service. Whether you need a finished basement or a kitchen remodel, you can trust our team to complete the job with precision. Located in Bellevue, we are proud to serve the greater Seattle area with exceptional remodeling services. Get in touch today to schedule an appointment.